For Your Leadership and Mentorship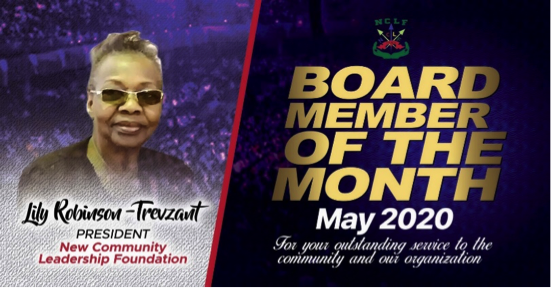 By Jameel Rasheed Patterson, Associate Director, New Community Leadership Foundation
Lilly Robinson-Trezvant embodies leadership and mentorship. She is the ideal example of what elders should be and stand for in any community. Good leaders lead and mentor as natural processes, making leaders out of those that cross their paths effortlessly. They pass the torch of good leadership without trying too hard.
Momma Lilly knows how to take action and humbly guide the way. She teaches naturally in a characteristic unimposing manner. Humans are a bundle of strengths and weaknesses. She pays attention to people's strengths and weaknesses, a quality that makes her an excellent mentor. Her ability to understand the wide range of human personalities and adapt to them is probably a superpower, one that you will be tempted to covet. She applies this superpower to being a great organizer.
Whenever you need words of encouragement, she is the go-to person. In no time, she will have you feeling like you are Martin Luther King Jr. or Malcolm X. She will get you so pumped that you will rise above and beyond the call of duty.
Leadership isn't giving orders: it is paying attention to people, giving a listening ear, and having enough positive energy to go around. Her leadership style reflects these qualities and more. She knows how to inspire everyone and keep the team running. Whether as a kick in the but or a pep talk, she knows what everyone needs per time to stay motivated. Momma Lilly is always ready to take lead in any task. Whether we are cooking, setting up a tent, going to a community meeting, or setting up a tent for a booth, she is always ready to be involved.
A native of Galveston, Texas, Momma Lilly moved to Fillmore when she was just 3 years and has called it home for over 7 decades. Her unique and efficient leadership skills can be attributed to her extensive leadership experience as part of the San Francisco School Board, a counselor at the Real Alternative Program (RAP) High School, and a board member of Rosa Park Senior Apartment tenants associations, amongst other leadership positions.
Having lost her family homes to the eminent domain of the San Francisco Redevelopment Agency, she is very passionate about not losing any more of the essence of her community and hopes to see Fillmore Heritage Center reopened as a community hub in the future.
She represents the sense of community that New Community Leadership is about. With all our love and gratitude, we are proud to announce that Lily Robinson-Trezvant is the board member of the month.